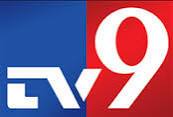 TV9 is by far the No. 1 regional news channel in Telangana & Andhra Prasedsh; and also one of the fastest growing regional news broadcasting networks in the country. Over a decade TV9 has been in the forefront of championing the cause "For a Better Society", thereby endearing itself to the Telugu Community not only in India but also across the flobe.
The Associated Broadcasting Company Pvt Ltd (ABCL) is one of the fastest growing media companies in India today. It is started with a 24-hour news channel (TV9 AP) in Andhra Pradesh in 2004, and quickly became a ratings leader there with our unique brand of bold and fearless journalism. In just four years TV9 added seven more channels.


TV9 Karnataka– the first news channel in Kannada, and a runaway TRP topper
TV9 Gujarati- the only Gujarati news channel, and a resounding success
TV9 Marathi- our stake in the financial capital

News9 (English)- a happening channel for our most happening city

Jai Telangana: an exclusive channel for Telangana State.